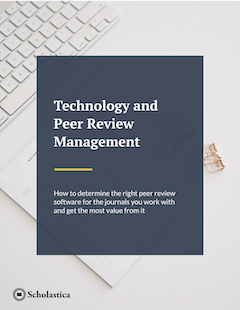 From having disorganized manuscript data to scattered communication channels, there are a lot of traps academic journals can fall into that complicate peer review and lead to publication delays. What often differentiates journals with the most streamlined peer review processes from the rest is how well they're able to use software tools to stay organized and work more efficiently.
In this free guide, we walk through how to determine the right peer review software system for your needs and get the most value from it, including:
Key peer review software benefits and features to look for
Common software pitfalls to avoid
Tips for determining the best peer review software solution for one or more journals
Plus, this guide comes with a Peer Review Software Checklist that you can use when assessing current or potential software options!