Free eBook: How to publish low-cost, high-quality open access journals online
Key strategies for small open access publishing programs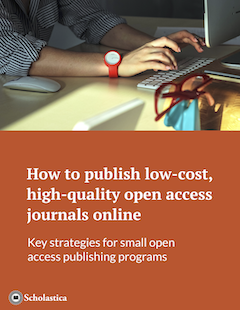 Are you wondering where your open access journals stand in the spectrum of digital publishing professionalization? Or are you launching a new open access journal and wondering what to focus on first? This free eBook will help you home in on the digital production, hosting, and dissemination strategies you should prioritize to take your journal publishing program to the next level and cut time and costs.
At the end of this eBook you'll know how to:
Develop a modern and efficient article production process
Meet industry-wide indexing standards and improve your journals' indexing outcomes
Optimize your journal websites and articles for online readers and search engines
Establish a content archiving policy and stick to it
Plus, you'll get a copy of the Digital Journal Publishing Professionalization Checklist that brings together all of the lessons in this eBook in an actionable worksheet!