The Essentials of Academic-Led Journal Publishing
Join the movement of university libraries, academic institutions, and scholars running OA journals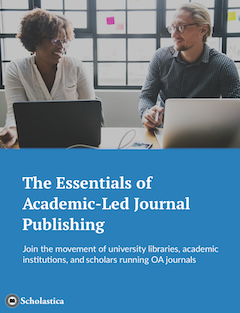 Who will control the fate of the open access movement? The answer to this question will have serious ramifications for academia and the world. Today, corporate publishers threaten to raise the cost of OA publishing to unsustainable levels. But the academic community has the power to change that.
The transition to online publishing is making it possible for scholars and nonprofit organizations to take back control of journals. Are you ready to take part?
This guide includes:
Examples of scholars and academic institutions launching successful academic-led journals, including the publishing and funding models they're using
Digital-first publishing methods that academic-led journals can use to operate more efficiently
Resources to help you publish academic-led journals, including a checklist with what you need to know in the first month of starting a new journal and a checklist for publishing an OA journal on a budget
Publishing academic-led journals has never been easier — this guide will show you how.